Ask Jonathan
How legitimate is Biofeedback?
Asked By: Anonymous Views: 838 times
I have hear alot about biofeedback but was under the impression it fell under the same category as crystals, astrology and the easter bunny.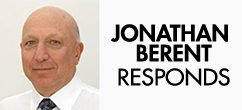 Biofeedback is very "legitimate" once you are clear on what it is. Biofeedback is the use of sophisticated, not invasive instrumentation to provide information about physiological processes that otherwise would not be available. It provides a scientific perspective of the mind-body connection. This is called psycho-physiology. The following technology is utilized at Berent Associates: E.M.G. (muscles), Temp Training (peripheral blood flow), and G.S.R. (Galvanic Skin Response). Based on the concept of operant conditioning, biofeedback is often used as an alternative to medication. It can empower individuals who are on medication to be less dependent on it. Biofeedback, when combined with stress management counseling is a powerful technology used for the treatment of stress related disorders including panic attacks, anxiety symptoms, migraine and tension headaches, gastrointestinal distress, pain, hypertension, general tension and more. A particularly functional application is temperature training which is the skill of conscious vaso-dilation achieved via increasing the skin temperature of one's hand. Being able to increase skin temperature 2-3 degrees can abort a panic attack or a migraine headache. This self-help technology is integrated into many of the self -help programs at Berent Associates including the book "Work Makes Me Nervous" and the audio programs "Self-Therapy for Public Speaking" and "Warm Hands Cool Face" for Eryhtrophobia-blushing anxiety. A perfect place to start with biofeedback would be with the bio-card./product/bio-card
The following is part of a collection of questions and sharing by our readership community about a wide variety of aspects of social anxiety. Dive in and receive practical insights and advice. If you have a question that is not included you can contact Jonathan at jberent@socialanxiety.com.
Relating to these Area of Concerns